Search
In the Main page select the tab "Hotels" and a form is shown, with the information you have to complete to search for International hotels.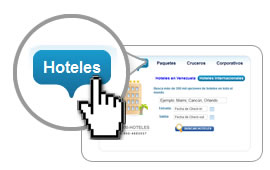 Complete
In the form, select the search criteria for your booking: Destination city or Hotel name, Check-in and Check-out dates, etc.
After the form is completed, please click on: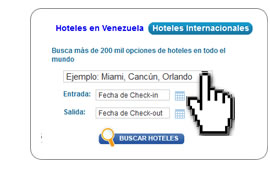 Select
The search result is shown with the hotels that match the criteria in previous step.
Verify the destination information and select your choice by clicking on it.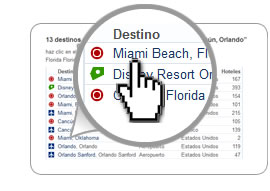 Select Reservation
The Hotel list is shown with the previously selected destination. Verify the rating, description and prices.
Select your preferred hotel and click on "Reserve now"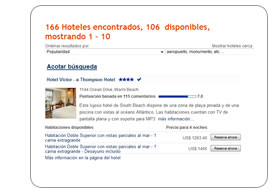 Select room
The room list for the previously selected hotel is shown.
Select the amount of rooms and verify the total prices of your reservation, then click "Continue"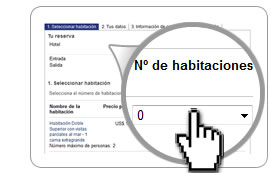 Complete Form
The form is shown to complete the booking information and credit card number.
After filling out the form, click on "Continue"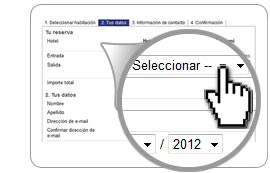 Contact information
The form is shown to enter contact information.
After completing the required information, click on "Book"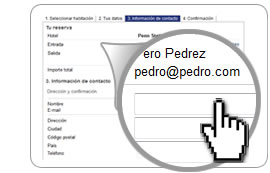 Final Confirmation
The summary for your booking is shown.
Verify the information and click on "Confirm".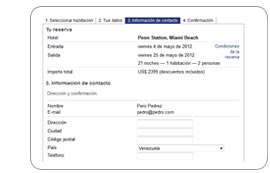 Booking Completed
Congratulations, you have booked your Hotel.
You will receive an email with all the booking information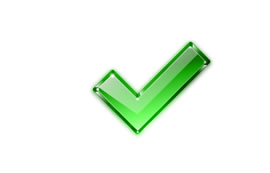 Packages

Hotels

Air Tickets
Search for Tourism Packages
Ingrese el nombre del hotel o la ciudad:
Partners Hotels recommended