Casa Mori
Address:
Calle Los Submarinistas, Casa Mori, Sector La Avenida, Puerto Colombia. Choroní. Aragua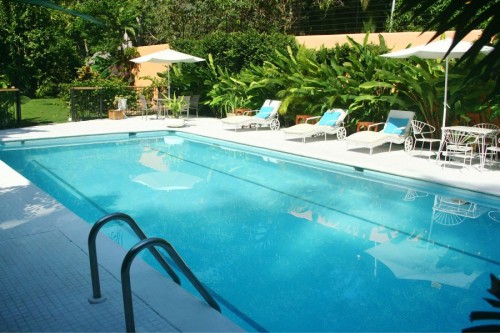 Phones
(212)2141027 (212) 2141028 (212) 2141031
Description
This posada just opened in March 10th, 2006 everything is brand new including important equipment such as A/C, Swimming pool, Water pumps (good pressure water in baths, showers, etc.) All is always working.
Casa Mori
Located at Sector La Avenida, Puerto Colombia, Choroní.
Ph.:(0243)991-1023,(0414)334-7011,(0414)344-7501
E-Mail: rodmori@yahoo.com
Characteristics
Each bedroom has a private bathroom with a little garden around the shower, Air conditioning, hot water, excellent quality bath y bed cloth. Private parking, big size swimming pool and green areas. We also offer extra services: Typical home made snacks (empanadas, finger cheese, etc.), refreshments, good quality of liquors and wines, that can be drink at the swimming pool and terrazzo; massages, transportation service to the city or airport; trips to the dense humidity jungle to the National Park Henri Pittier. (Spectacular water falls, pozos, views, birds, etc.)
Comments
It's a pleasant and exotic destination; jungle, best Caribbean beaches, Casa Mori is the VIP place to stay. Owners are fluent bilinguals, Choroní is still virgin (there are no Banks or McDonalds). We take good care of our guests and make sure this experience is a memorable one for you.
Email
reservaciones@waoturismo.com
Website
www.casamorichoroni.com
Services
Air conditioning
Tv
Cable Tv
Pool
Checks
Restaurant
Bar
Parking area
Hot water
Haga click para ver las imagenes
Packages

Hotels

Air Tickets
Search for Tourism Packages
Ingrese el nombre del hotel o la ciudad:
Partners Hotels recommended